Feb
13
Thu
Research Symposium – Strengthening Community Relationships through Research

@ Clarence Fitzroy Bryant College Main Campus
Feb 13 @ 9:00 AM – 10:30 AM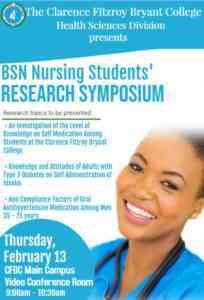 Clarence Fitzroy Bryant College, Health Science Division Student Research Symposium
The students of the UWI/CFBC Bachelor of Science degree program at the Clarence Fitzroy Bryant College invites the general public to a Research Symposium under the theme, "Strengthening Community Relationships through Research." 
 
Research topics include:
1. An Investigation of the Level of Knowledge on Self Medication Among Students at the Clarence
Fitzroy Bryant College
2. Knowledge and Attitudes of Adults with Type 2 Diabetes on Self Administration of Insulin
3. Non-Compliance Factors of Oral Antihypertensive Medication Among Men 35 – 75 years.
The Research Symposium will be held on Thursday February 13 th , 2020 at 9:00 am – 10:30 am at the CFBC Main Campus, Video Conference Room.  We look forward to your presence in support of our students' academic achievement.