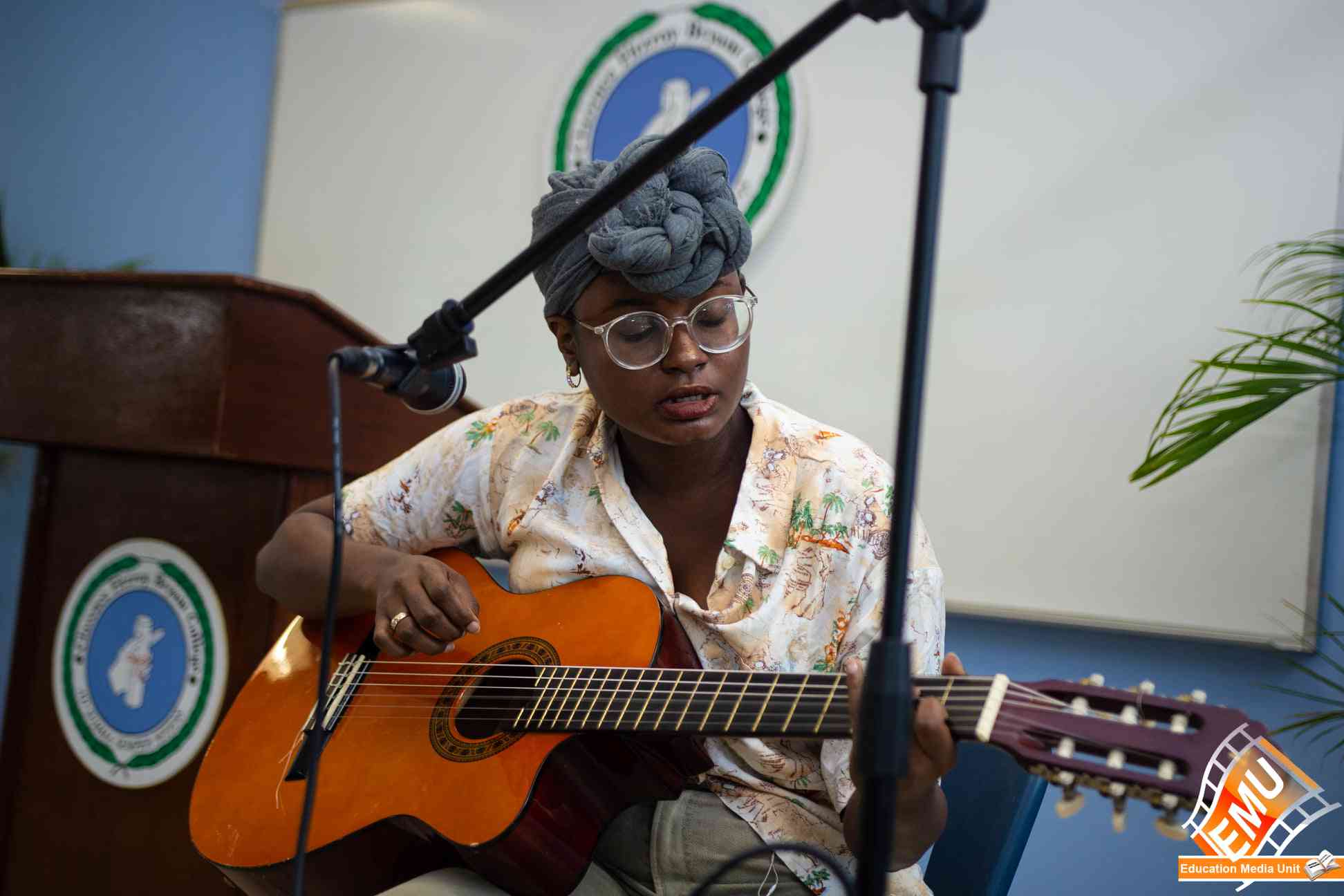 Basseterre, St. Kitts (CFBC): An "Evening of Poetry" was held at the Poinciana Conference Room at the Clarence Fitzroy Bryant College (CFBC) on March 22 in commemoration of World Poetry Day 2021. The event in its third iteration was hosted by the Department of Library Services to showcase the creative efforts of
local poets as it endeavors to increase appreciation of the art form across the collegiate and national community.
Held annually on March 21, the United Nations Educational, Scientific and Cultural Organization (UNESCO), first recognized the day during its 30th GeneralConference in Paris in 1999. The designated day allows for the collective celebration of the literary form and the creativity of those who produce it.
"Poetry is an art form which forms our cultural and linguistic expressions as well as our identity" said Senior Lecturer at the CFBC and chairperson of the evening, Ms. Laverne Brookes, as she welcomed a listening audience filled with local poets, government and college officials, students, and other specially invited guests.
"Poetry continues to bring people from across the world together. It reaffirms our common humanity by revealing to us that individuals everywhere have a word-and must be heard." Ms. Dorothy Warner, Secretary-General to the St. Kitts and Nevis National Commission for UNESCO presented the listening audience with a World Poetry Day message from Ms. Audrey Azoulay, Director-General of UNESCO.
"Arranged in words, colored with images and struck with the right meter, the power of poetry has no match.
This is the power to bring us together, to unite us around the same emotions; to allow us to escape even in lockdown" delivered Ms. Warner.  "More recently, poets have begun using their cultural memory and
ecological concerns to stand as witnesses to climate change. Through their work, these eco-poets place natural and cultural heritage at the centre of political debate, as a question of survival" read Ms. Warner.
President of the CFBC, Dr. Jaqueline Austin stated that, "Poetry is a form of artistic expression that inspires us and captures our emotions". Dr. Austin opened the evening by declaring that "inspite of the COVID-19 pandemic, this ('Evening of Poetry') is an expression of our resilience".
The evening featured 24 poets comprising renowned, accomplished poets and past and present students and faculty of the CFBC. Their poems centered around various themes including but not limited to traditional West Indian themes, social and political commentary, ecology, humor, musical renditions, and drama. The event also featured an exhibition of books by local poets including Ermileta Elliott of Nevis and Loughlin Tatem of Saint Kitts.
After an entertaining night of creative pieces, the Director of Library Services, Mrs. Sonita Daniel expressed her gratitude to the poets, audience, the College, and sponsors including Islander Water Sports for giving back to the poetry community by facilitating poets from Nevis. The Director of Library Services urged prospective poets to follow the example of Nobel Prize Winning Poet, Dereck Walcott who "combined the grammar of vision with the freedom of metaphor to produce a beautiful style" and to follow the advice of the Guyanese Poet Martin Carter to not only sleep to dream but dream to change the world through poetry."
She ended the evening by extending an invitation to everyone to attend the fourth iteration of an 'Evening of Poetry' which is slated for 2022.
See event gallery attached.