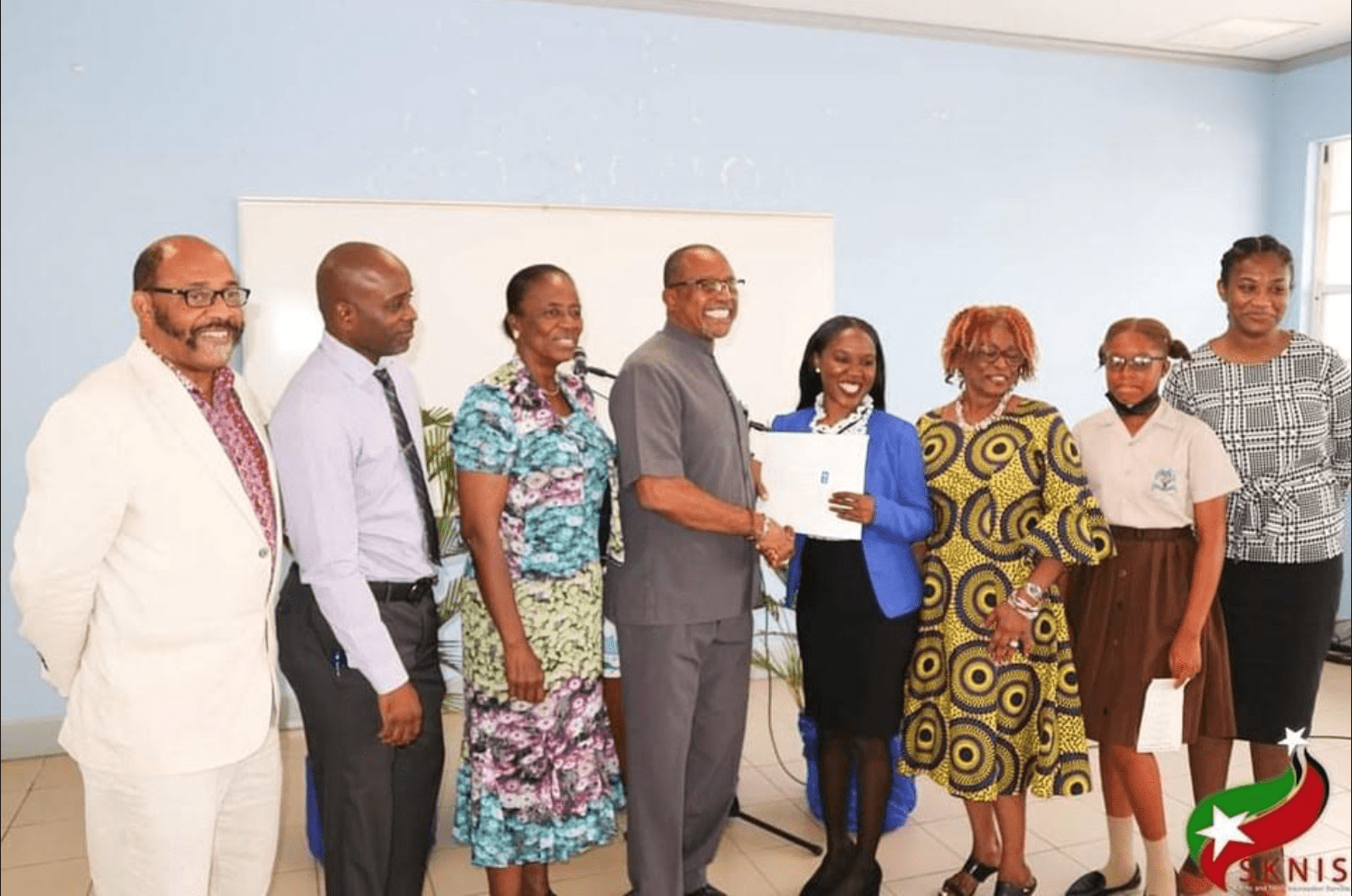 At a modest celebration at Clarence Fitzroy Bryant College on March 23, 2022, Ms. Janiecia Powell received the Joshua Obadiah Williams Award. The monetary prize, established in 1995, is awarded to the Division of Teacher Education graduate who receives the top grades in the University of the West Indies Examinations and the teaching practicum. Janiecia, a member of the CFBC Class of 2021, is an Early Childhood Education major who earned a near-perfect GPA.
Janiecia is the daughter of Janice David and Larington Powell, and comes from the quiet neighborhood of Prospect Estate in Nevis. Her educational foundation was laid at V & J Preschool, Ivor Walters Primary School, Charlestown Secondary School, and the Arts, Sciences and General Studies of the Clarence Fitzroy Bryant College.
After determining that teaching was her vocation, Janiecia accepted a post at the Gingerland Secondary School. She then set the goal of becoming a trained teacher and eventually signed on for a second stint at the Clarence Fitzroy Bryant College, this time in the Teacher Education Division. Janiecia notes:
It was not an easy decision to quit my post at Gingerland Secondary School to join the Early Childhood Education Programme. However, working with children of high school age taught me the value of a child's early education so, although I enjoyed teaching older students, I believed creating a firm foundation for the younger generation and assisting them on a fundamental level would be more rewarding.
During her two years in Teacher Ed, Janiecia resolved to buckle down and stay focused on her goal. She commends Dean Joycelyn Pennyfeather and the faculty of the Division for their unwavering commitment, thanks them for having confidence in her talents and notes that she will be eternally grateful for their seeing her through her worst days.
Janiecia is also grateful to her supportive teachers, Ms Mason, Ms Caines, Ms Joseph, and Ms Warner; her two sisters,
Downenshea and Vanshea Powell; her best friend Therez Wallace; Nidia Perkins, Javon Greene, and Glassil DeSilva; and Jonella Frazer who provided housing.
Janiecia also thanks the Williams family, particularly Victor and Joyce, who presented the award. She hopes that her path as a professional teacher will alter and mould her in the same way that Joshua Obadiah Williams, who loved to teach, was moulded. Joshua Obadiah Williams was an educator, philosopher, poet, disciplinarian, and humanitarian.
He was born to Albert Victor and Adosha Elisabeth Williams on October 11, 1926, in Barnes Ghaut, Nevis. After completing the Seventh Standard Certificate at 16, he became a pupil- teacher at St. Thomas School in Lowland, Nevis.
He moved to St. Kitts in 1948 where he continued to teach and research. From 1955 to 1957, he attended Barbados; Erdiston Teachers College, after which he taught at the Cayon School and subsequently the St. Paul's School. In 1965, he enrolled in the University of the West Indies, Mona, where he earned his Professional Certificate in Education.
When he returned to St. Kitts, he was appointed Headmaster of the Molineux All Age School (later renamed The Joshua Obadiah Williams Primary School).  Joshua Obadiah Williams retired as headmaster of the Basseterre Boys' School in the early 1980s. Joshua Obadiah Williams touched hundreds of lives through his teaching, including two of Janiecia lecturers—Gairy Knight and Randolph Taylor— both long-standing teachers. He assiduously followed the curriculum, but also prepared his students for life by reiterating words of wisdom such as:
Look on this World as a mountain,
Think where the millions stop,
There is always a crowd at the bottom,
Push on – there is room at the top.
Joshua Obadiah Williams will always be remembered as a pioneer in education and an advocate of high morals and strong family values.