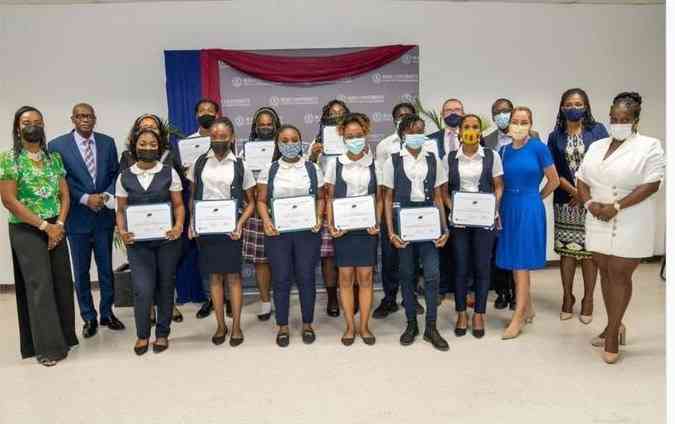 The Ross University School of Veterinary Medicine (RUSVM) is again being commended for its commitment toward the advancement of the education of the nation's youth.
During a ceremony held at the university's campus on Friday, March 18, 2022, ten (10) students – eight from St. Kitts and two from the island of Nevis – were officially inducted into the Ross University School of Veterinary Medicine Scholarships Awards Programme that provides needed assistance towards the continuation of their education journey at the Clarence Fitzroy Bryant College (CFBC) and the Nevis Sixth Form College.
This year's awardees were Kianja Pole who received the Dean's Award; Kaidrian Ottley, recipient of the Leadership Award; Precious Estridge – the EDGE Award; Dwasani Woodley – the Glenville Henry Memorial Award; Shaniyah Wattley – the Yvonne Cotton Award; Alyssa Daniel – the Walter James Award; Arzandra Athurton – the Mova Simmonds Award; Tatiana Leader – the Lynette Issac Award; Alsanarda Hanley received the Ermine Cotton Award, and Chenoa Simmonds was awarded the Denise Fyfield Award.
The scholarship programme, now in its fifth year, provides financial support for up to two years of tuition, books and other fees, a stipend towards uniform and transportation, and six weeks of paid internship at Ross University.