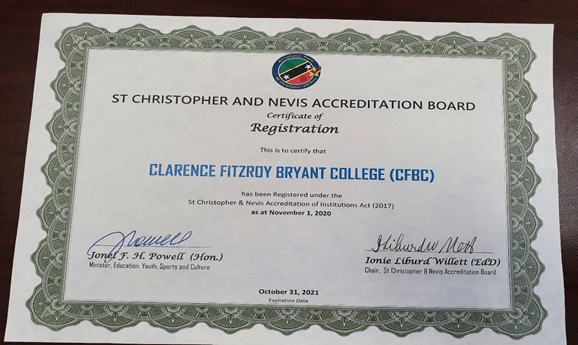 Basseterre, St. Kitts (CFBC): The Clarence Fitzroy Bryant College (CFBC) has made strides towards the accreditation process by receiving a certificate of registration from the St. Christopher and Nevis Accreditation Board, effective November 1st, 2020. This milestone underscores just the first of many steps aimed at enhancing the College's overall academic prowess, a core initiative CFBC President Dr. Jacqueline Austin has set her sights on with great passion.
In an interview with the President, she explained that this process "will give us that stamp of approval to verify that our educational standards meet the accreditation board's criteria for us to function as a top-level institution in St. Kitts and Nevis."
"Essentially what accreditation is about, is mapping what we do—all our systems, procedures, operations—to ensure international best practice and standards," President Austin further articulated. She cites her concerns of ensuring that CFBC students obtain the very best support they need as a key driver behind securing accreditation, with the process asking probing questions such as, "Do our student services meet international standards?" "Are we offering the requisite counseling services?" "Do we have systems in place for students who need support, from the time of admission to the time of graduation?"
In emphasizing the importance of this process, we are urging others to not view it as a "system to catch us off guard," but rather, one "that allows us to improve what we are doing, to deliver the best services to our students, to examine the quality of the educational offerings." We at CFBC are excited that we have reached this point to receive the certificate of registration, so that we can position ourselves to move towards the next level of seeking accreditation because we are always striving for excellence."
President Austin commended the team who has been working assiduously to ensure that the documents needed by the Accreditation Board are supplied. Once the documents have been submitted, the Board secretariat will provide CFBC with a monitoring assessment for the institution to complete and submit.
This is a 'big deal' for us here at CFBC because we are often considering partnerships with international universities and we want our students to be able to matriculate into internationally accredited universities. Dr. Austin emphasized the importance of being recognized as an educational institution not just here in St. Kitts and Nevis, but regionally and globally. She expressed that she firmly believes that we can compete globally. "We also want international students coming here to the Federation!"
When asked about the remaining steps between registration and accreditation, the President explained the several tiers, with the inaugural, and most fundamental tier being a call for readiness. While CFBC has a draft strategic plan, there are numerous aspects of the strategic plan that have not yet been finalized or implemented. As such, full accreditation may not be realized for another three years.
In regard to our programs, the accreditation process would challenge us as an educational institution to assess our programme offerings, their rigor and to ensure that learning takes place in "dynamic spaces". She posits that it is not about rote learning and preparing for examinations, but rather, a way to provide opportunities for practical experiences and innovation, giving our students the opportunities to engage in teamwork and group projects.
"Overall, we need some of our programs to have a complete overhaul—that's the reality. So, when students leave the institution, they can hit the ground running. This is an opportunity for us to demonstrate as a Small Island Developing State, that we can achieve excellence, but it takes hard work, determination, and diligence if we are to remain focused on the goal." Accreditation will compel us to honestly and transparently examine CFBC's program quality, student learning outcomes and overall quality standards in administrative areas such as finance, technology and student records.
In the President's final words, she expressed a desire to have faculty and staff provide further engagement in the process and looks forward to having teams and subcommittees work on various aspects of our readiness for this promising next level of assessment.