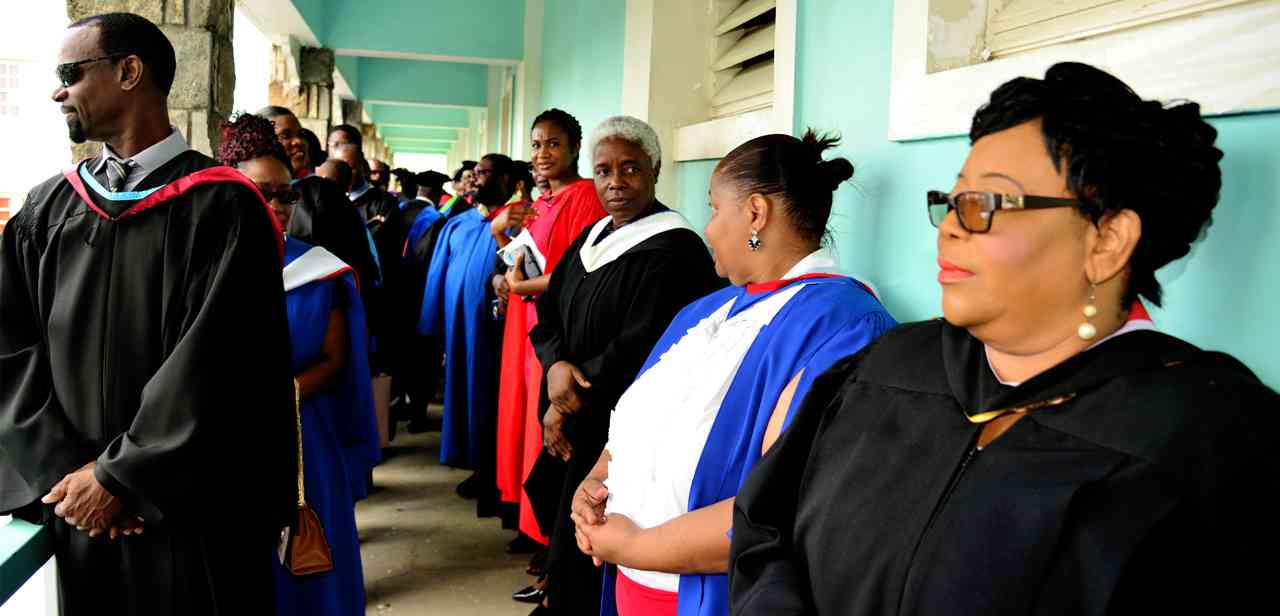 Dr. Jacqueline Austin, President, PhD, MSc, BA, Certificate in Educational Administration (UWI)
Ms. Yasmaine Davis, Registrar, M.B.A.; B.Sc. (Hons); Cert in Teaching
Ms. Ruth Slack, Director of Human Resources, FCCA; M.Sc.; B.Sc. (Hons)
Dr. Rondalyn Bradshaw, Dean of Health Sciences
DNP, MSc Nursing Education, BSN (Hons), RN, CM
Dr. Joycelyn Archibald Pennyfeather, Dean of Teacher Education , M.Ed; B.Ed.; Cert. in Teaching
Ms. Wanda Hughes, Dean Adult & Continuing Education, M.A.; B.A.
Dr. Moyia Rowtham, VPASA- Vice President Academic and Student Affairs; Ph.D.; B.A (Hons), Dip. Ed.
Mr. Andrew Abraham, Dean of Technical and Vocational Education and Management Studies, M.B.A; B.B.A.; A.A.S.
Dr. Leighton Naraine, Director of Employee and Programme Development, PhD; MA; BA; Cert in Teaching
Ms. Brenda Caesar, Bursar, B.B.A.
Ms. Samantha Fox, Director of Student Services, M.Sc., B.A.
Mrs. Kayrisa Kelly, Assistant Registrar, B.Sc. (Hons)
Dr. Hughon James, Counsellor, Ph.D.; M.A..; B.A.
Mr. Garvin Newton, ICT Manager, B.Eng. (Hons); Cisco Cert. Net. Ass.
Mr. Fritzroy Wilkin, Curriculum Development Officer, B.Ed.; Dip. Ed.
Mrs. Sonita Daniel, Director of Library Services, MA. BA (Hons)