ASGS DIVISION OVERVIEW
The Division of Arts, Science and General Studies (ASGS), prepares students for the CXC Caribbean Advanced Proficiency Examinations (CAPE). CAPE is the equivalent of the Cambridge Advanced Level Examinations and is recognized as such nationally, regionally and internationally.
Subjects for CAPE are arranged as 1-Unit or 2-Unit courses. Students may opt for breadth of study to take either a combination of single units from available courses, or both units for depth of study. A 2- Unit course of study in a single subject area is considered equivalent to a traditional Advanced Level (A' Level) subject.
All students are advised to take at least TWO 2 Unit courses as this is the minimum university entry requirement.
Each Unit consists of three modules and requires approximately 150 hours of work. This includes contact time and time spent on projects and other assignments.
Internal and external assessments are required for each Unit and students CANNOT achieve a passing grade without satisfying both the internal and external requirements for the unit of study. These assessments effectively span the three modules.
THE CAPE PROGRAMME
The CAPE Associate Degree is awarded for the completion of ten (10) CAPE Units including Caribbean Studies, Communication Studies and Integrated Mathematics or one Unit of any Mathematics course, 4 core courses based on your specialization, 2 approved adjunct/supporting courses and 1 other elective course of your choice as outlined in the table below.
CAPE ASSOCIATE DEGREE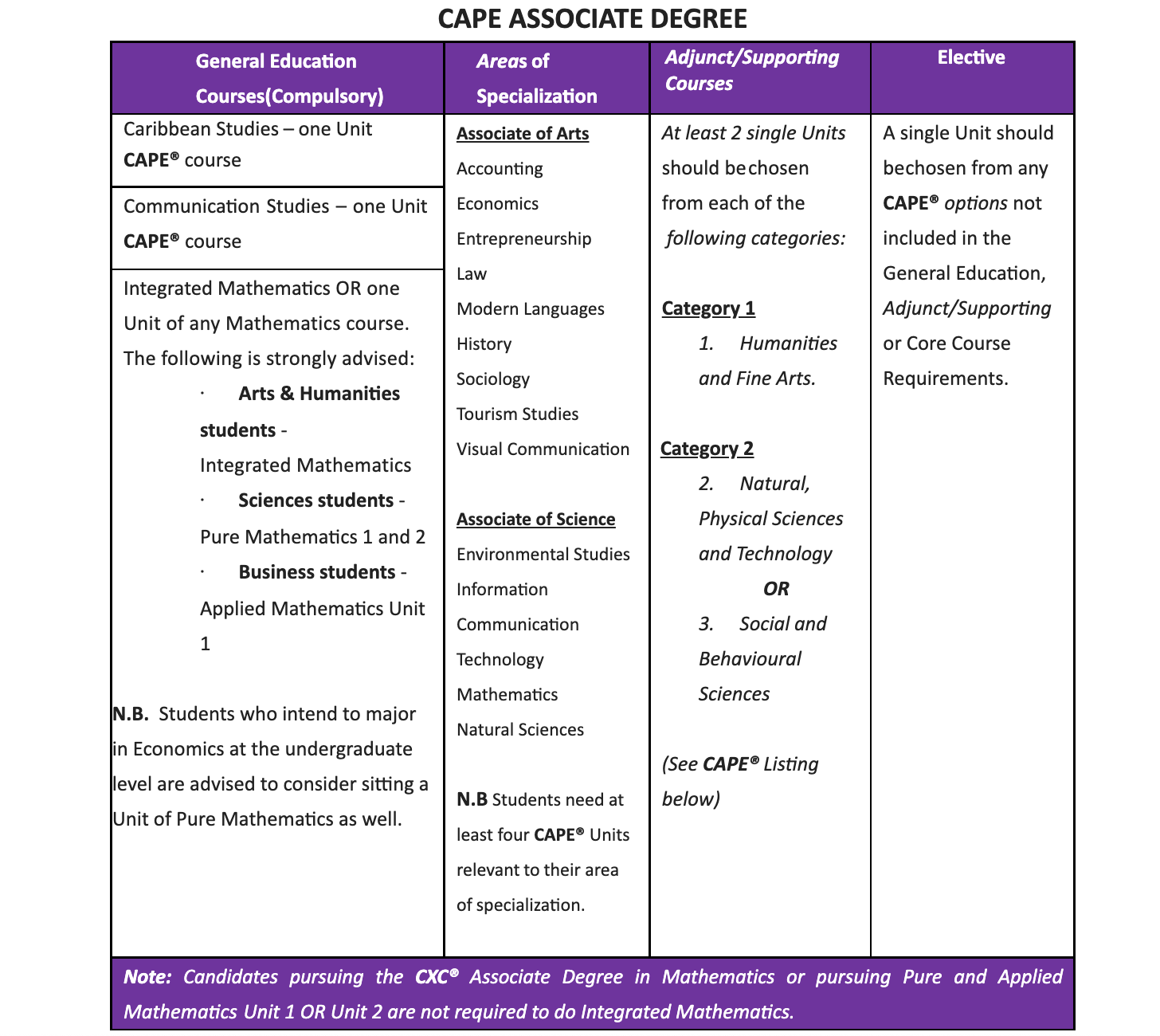 Adjunct/Supporting Courses
Candidates pursuing the CXC-AD are required to select at least two CAPE Units from the Approved Adjunct/Supporting Course Listing in order to fulfill the requirements of the degree.
One Cape Unit must be selected from the Humanities and Fine Arts. 
One Cape Unit must be selected from the Natural, Physical Sciences and Technology or Social, and Behavioural Sciences.
At least 2 single Units can be chosen from any of the CAPE® options based on the following categories:
 Elective
Choose one unit from any other CAPE Syllabus.
ASGS CORE SUBJECT PREREQUISITES
Subject
Prerequisite
 Accounting
Principles of Accounts
 Applied Mathematics
Mathematics

 

English A, History and Visual Arts.

ONE of the following options may be considered instead of Visual Arts:

Art and Design
Clothing and Textiles/Technical Drawing/Information Technology/Woodwork
 Biology
Biology and Chemistry
 Chemistry
Chemistry and Mathematics
 Computer Science
Mathematics
 Digital Media
No Prerequisite
 Economics
Mathematics
 Environmental Science
Geography, Agricultural Science, Integrated Science, Chemistry, Physics or Biology (any TWO of the following subjects listed)
 Entrepreneurship
English A
 French
French and English B*
 Geography
Geography
 History
History
 Information Technology
Mathematics/ Information Technology
 Law
History or English B
 Literatures in English
English A and English B
 Management of Business
Principles of Accounts *
 Physics
Physics and Mathematics
 Pure Mathematics
Mathematics
 Sociology
History/ Social Studies
 Spanish
Spanish and English B*
 Tourism
English A
* Even if the student has done the examination at CSEC and has failed, he/she will be eligible as he/she will have knowledge of the content.
GENERAL ENTRY REQUIREMENTS
The basic entry requirements are stated below. However, it should be noted that several fields of study require specific prerequisites.
Applicants MUST have the following:
Five CXC/ CSEC subjects at the general or technical proficiency, Grades I-III including English A. (Grade III issued before 1998 will NOT be accepted)
GCE ordinary level subjects, grades A-C. These may be combined with CXC/CSEC general or technical proficiency subjects.
No basic proficiency will be accepted.
SEE PREREQUISITES FOR THE ASGS PROGRAMME
CXC Associate Degree Requirements